Wear Resistant Coated Bends And Pipes For Pneumatic Conveying
10-09-2012, 07:23
Admin
Administrator


Posts: 285
Joined: Nov 2010
Reputation: 0
Wear Resistant Coated Bends And Pipes For Pneumatic Conveying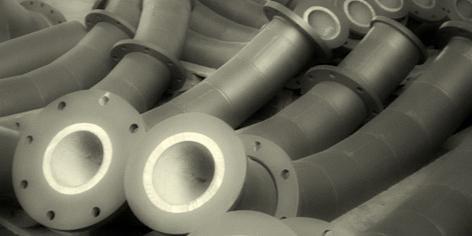 Frequently a pneumatic conveying system is used to convey materials with high abrasiveness, that is, with a marked tendency to consume by friction to the wall of the tubing where they flow. Examples are the foundry sand, clinker, ash from combustion in boilers, quartz. The phenomenon of wear in the tubes is due in part to the conveying speed and the consequent friction of the product in the pipes.
But the main cause is the changing direction, which is why the wear of major concern takes place in conveying bends, due to the increased friction.
That is why the bends of a pneumatic conveying line are manufactured with the bending radius the widest possible and in any case with strong limitations with respect to the smallest value adoptable. And, in the case of heavy abrasion, wear resistant internal coatings are used.
In the design and manufacture of pneumatic conveying ROSADA ILS keeps up consideration of these problems and adopts wear resistant coatings with quality materials and high quality of construction. The manufacture is an essential factor for the effectiveness of the abrasion resistant components, for example the perfect alignment of the inner sectors of lining that allows a longer life of the component as well as the selection of a chemical composition that involves adequate hardness.
We propose wear resistant lined bends with thicknesses adequate for heavy duty, coupled with straight sections of suitable length, to take account of the angle of incidence with which the particles collide with the surface and the lingering effects of turbulence of the flow after the change of direction. We also design and manufacture special components of various shapes, "T", "Y", "S", with sizes and lengths also on design.
Products intended to satisfy strict requirements and to last over time.
Click here for more info

User(s) browsing this thread: 1 Guest(s)